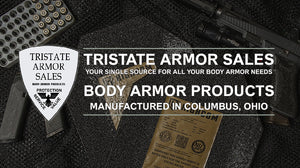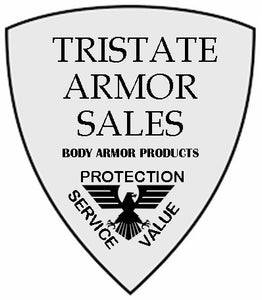 FREE SHIPPING DISCLAIMER --- CONTINENTAL U.S. ONLY EXCLUDING ALASKA, HAWAII & CONNECTICUT
TRISTATE ARMOR SALES is an authorized distributor for HighCom Armor. 
HighCom Armor, located in Columbus, Ohio. Established in 1997, HighCom Armor is a name recognized within the defense space as a trusted and valuable resource for high quality and cost-effective protective systems. Our engineering and operation teams have designed and commercialized numerous solutions according to NIJ and MIL-SPEC body armor standards and testing protocols. For over two decades, we have provided private label/OEM hard and soft armor solutions to some of the largest defense companies and manufacturers for end use by military and law enforcement agencies globally because of our reputation for innovative technology, exceptional customer service, and superior quality performance.                               
TERMS & CONDITIONS
Products purchased from this website may contain hardware/technical data within the definition of 15 CFR Chapter VII, Subchapter C – EXPORT ADMINISTRATION REGULATIONS Part 730 through 774, as well as 22 CFR Chapter I, Subchapter M – INTERNATIONAL TRAFFIC IN ARMS REGULATIONS part 120 through 130,and may be subject to the export control laws of the U.S.
The unauthorized reproduction, dissemination, or transfer of these products or technical data by any method to a foreign person, whether within the U.S. or abroad without the written authorization of the Department of Commerce Bureau of Industry & Security (BIS), Department of State Directorate of Defense Trade Controls (DDTC), or Department of Treasury Office of Foreign Assets Controls (OFAC) is strictly prohibited by law. (Please see 15 C.F.R., 22 C.F.R., 18 U.S.C., 22 U.S.C., and 50 U.S.C. for additional information)
Due to these laws and regulations, Tristate Armor Sales is required to only sell our products to lawful U.S. persons unless with an approved export license and therefore we use a simple method to verify proof of citizenship/residency before processing and delivering purchased protective products. By placing an order on our website you agree to these requirements and that a request for your passport, birth certificate, and/or other form of identification may be required. If you refuse to provide this information your order will be canceled and a full refund will be provided.
Q. Why does Tristate Armor Sales require proof of U.S. person status and others don't?
A. This is a Tristate Armor Sales company policy and we are unable to speak on behalf of other companies. However, export compliance is extremely important to Tristate Armor Sales and because of U.S. laws restricting the sale/transfer of controlled items (Body Armor) to foreign persons, Tristate Armor Sales has found the most effective, quickest, and easiest method while also keeping administration costs low in order to pass along savings to our customers is in the form of requiring a birth certificate or passport as proof of citizenship/residency.
Some individuals may question this as us refusing to sell to law abiding citizens and this could not be further from the truth. In fact, the entire point of this policy is to ensure we are only selling to legal law abiding U.S. persons. Please know that although other companies may accept a driver's license as proof of citizenship/residency this is not an effective way for Tristate Armor Sales to prove citizenship/residency as many States within the U.S. are now allowing foreign persons and even illegal aliens to obtain drivers licenses and other federal and state identification and benefits.
We understand there are alternative choices in the market and are not forcing this policy on anyone who chooses to buy elsewhere. Please know your business is extremely important to us and so is the National Security of the United States. Please know these are real laws and regulations and not something we have made up to complicate our business practices.